Welcome
At Ray's Leak Detection & Repair our philosophy is simple, service first. We take pride in providing customer service comparable to none. We specialize in leak detection in industrial, commercial, and residential structures.
Our techs can help with identifying slab leaks and providing camera inspections. Make sure you ask how we can help you conserve water and save money on your utility bills. We respond to all of our customers with prompt, courteous, professional technicians who will tackel your problem with a guaranteed low price - anywhere, any day, any time attitude! All of our technicnicians work for us and are trained to meet our very high quality standards. we never use subcontractors.
Our trained technicians use non-invasive, state of the art technology to accurately locate leaks, saving water, time and money. Avoid unnecessary property damage commonly associated with the conventional search and destroy methods utilized to detect leaks. If you are experiencing an unusually high water bill, find yourself constantly refilling the pool, or hear water running indoors, you may have a hidden plumbing leak. Call Ray's Leak Detection and repair today.
We are committed to offering competitive pricing without compromising our workmanship. Before you sign a contract with anyone else, give Ray's Leak Detection & Repair the opportunity to earn your business, you'll be glad that you did. Serving the Riverside and Corona Area. Lic.# C36-660333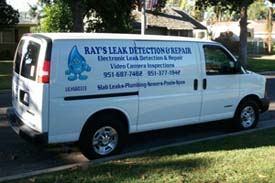 Our Clients Say it Best
Ray and his father was great in repairing my water main leak under the front patio. He is fast, friendly and extremly professional in his workmanship. I highly recommend anyone to use this plumbing service. Worth every penny!!!
Thank You from Tom Couts
Thanks so much for fixing my issue so quickly, I would just like to say that your company has provided such amazing customer service/ support to date it has really blown me away (it is very rare in business today)
ThemeForest Customer 3